It has been over a century since Henry Ford made a significant investment of $8 million to acquire Lincoln, a newcomer in the automotive industry named after the esteemed President Abraham Lincoln.
Over the years, Ford Motor Co.'s luxury division, Lincoln, has been known for producing large and luxurious vehicles such as the Continental, Mark IV, and presidential limousines, focusing primarily on opulence and comfort. Safety considerations were initially secondary, with carmakers gradually incorporating features like rear-view mirrors and electric turn signals. The introduction of lap belts marked a significant step forward in promoting safety within the industry.
Times have changed, and the automotive industry has undergone a significant transformation. Today, the focus has shifted towards crossovers, trucks, and electric vehicles, with even Lincoln, known for its luxurious heritage, finding success in the compact crossover segment. What's remarkable is the abundance of advanced safety features in these vehicles, which would have been considered futuristic just a short while ago.
Lincoln proudly claims that the 2023 Corsair AWD became the pioneer in the premium-crossover category to offer advanced hands-free and pedal-free driving capabilities. With the ability to operate at speeds of up to 80 mph on mapped highways, this groundbreaking feature, known as ActiveGlide 1.2 (or BlueCruise in Ford's terminology), comes with an impressive array of functionalities.
With Lane Change Assist, the vehicle can autonomously execute a hands-free lane change when the driver activates the turn signal, and it can even provide lane change suggestions in slow-moving traffic.
Predictive Speed Assist is a feature that automatically adjusts the vehicle's speed to ensure safe navigation around curves.
In-Lane Repositioning ensures that the vehicle stays within its lane, making slight adjustments to avoid larger trucks or vehicles in neighboring lanes.
Intersection Assist 2.0 is designed to prevent collisions with pedestrians while making turns at intersections.
Despite being the smallest SUV in Lincoln's lineup, the Corsair doesn't compromise on style and elegance. Built on the same platform as the Ford Escape, the Corsair elevates its appeal with high-quality materials. In addition to the impressive driver-assist features, the 2023 Corsair has received updates to its exterior design, interior technology, and overall comfort for an enhanced driving experience.
Positioned below the Nautilus in the lineup, the Corsair bears a resemblance to the larger Aviator with its bold front grille and edgy front fascia. The front-light configuration has been revamped, featuring jeweled adaptive LED headlights accompanied by wing-shaped running lights. At the rear, a sleek taillight spans the width of the liftgate, accentuated by the Corsair name spelled out in block letters. To add a touch of elegance, the Corsair sports blacked-out exterior pillars and mirrors that harmonize with the black roof.
The Corsair is available in three trims, with the Standard trim expected to garner significant popularity. Surprisingly, the Standard trim offers a range of option packages usually reserved for higher trims, providing excellent value for money. However, if you desire an abundance of upgrades, the Reserve trim is the way to go. With features such as 20-inch alloy wheels, a hands-free power liftgate, upgraded audio, luxurious leather seats, and real wood trim, the Reserve trim offers a premium experience. To make an informed decision that aligns with your preferences and budget, it's essential to carefully evaluate what truly matters to you.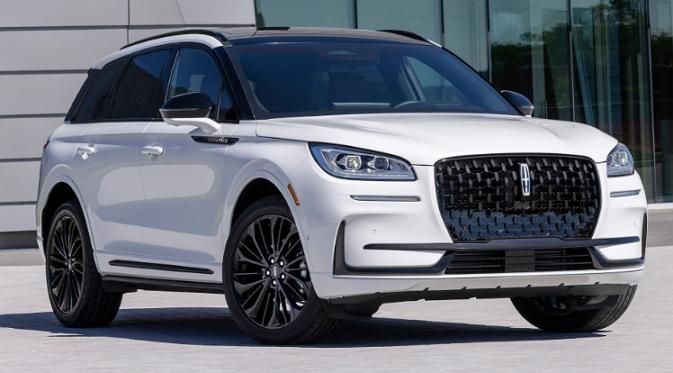 If you're considering a hybrid option, the Grand Touring trim is the way to go. This top-tier trim is exclusively available as a plug-in hybrid (PHEV) and combines a 2.5-liter 4-cylinder engine with an electric motor and a continuously variable transmission (CVT). While it does come with an additional cost of $10,000, it offers the benefit of being able to drive solely on electric power for up to 28 miles. This makes it a great choice for eco-conscious drivers looking to reduce their carbon footprint.
The remaining trims are equipped with a spirited 2.0-liter 4-cylinder engine, delivering 250 horsepower and 275 pound-feet of torque. The previously available 2.3-liter turbo engine has been removed from the lineup. The 2.0-liter engine is paired with a seamless 8-speed automatic transmission, and gear selection is made through piano-key buttons conveniently located on the center console. This combination ensures a smooth and responsive driving experience for Corsair owners.
Similar to its counterpart, the Escape, the Corsair delivers an effortlessly smooth performance. Its agility in urban environments, precise handling around corners, and adaptive suspension system effectively absorb the impact of rough roads. While its acceleration from 0 to 60 mph in 6.3 seconds is respectable, it falls slightly short compared to competitors such as the Porsche Macan, Lexus NX, and Mercedes GLA.
Engaging the Excite mode by turning the drive-mode knob adds an extra level of enjoyment to the driving experience. Although the name might be a bit exaggerated, it does enhance throttle response, accelerate shifts, improve steering feel, and even provides a sportier exhaust sound. The other modes are self-explanatory: Normal, Slippery, and Conserve. All of these modes can be easily selected using a knob located on the center console. While front-wheel drive comes as standard, there is an option to upgrade to all-wheel drive.
According to the EPA, the Corsair is estimated to achieve 22 mpg in city driving, 29 mpg on the highway, and a combined fuel efficiency of 25 mpg. When it comes to the interior, the Corsair offers a refreshed and more vibrant cabin. This year, Lincoln introduces the new Eternal Red color, described as a "youthful and fresher" option (which is a first for Lincoln). However, for those seeking a warmer tone, there is also the option of Smoked Truffle.
The Corsair ensures comfort with its heated and ventilated leather seats, adorned with exquisite stitching. For those seeking the ultimate seating experience, the available tech package includes Lincoln's "Perfect Position" seats, offering an impressive 24-way adjustments to cater to your exact preferences. With such extensive customization options, finding the perfect seating position is a breeze. Additionally, the Corsair allows you to store seat positions for up to three drivers, making it convenient for multiple individuals to enjoy a personalized driving experience.
The Corsair offers ample leg and headroom for all passengers within its five-seat cabin. Rear occupants benefit from netted pouches located behind the front seats, providing convenient storage options. When additional cargo space is needed, the rear seats can be folded in a 60/40 split, expanding the cargo capacity to a generous 57.6 cubic feet. For added convenience, accessing the cargo area is made easy with the hands-free liftgate feature. Even with the second row in place, there is still a substantial 34 cubic feet of cargo space available.
Lincoln ensures a cleaner and fresher cabin environment with the help of their Auto Air Refresh system. This innovative feature continuously monitors the air quality and effectively filters out dust, smoke, smog, and even certain pollen particles. Impressively, the system is designed to refresh the air within the cabin 1.5 times every minute, promoting a healthier and more pleasant driving experience for passengers.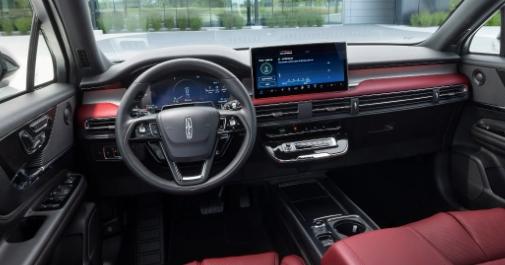 Corsair's technological advancements take center stage with notable upgrades. The centerpiece is the expanded center-stack touchscreen, now an impressive 13.2 inches in size (a significant jump from the previous 8 inches). Powered by the Sync 4 infotainment system, the touchscreen offers a user-friendly interface that can be conveniently controlled from the steering wheel. The system also supports over-the-air software updates and seamlessly integrates with Apple CarPlay and Android Auto for enhanced connectivity. Additionally, a programmable 12.3-inch LCD digital gauge display comes standard this year, providing a customizable and informative visual experience for drivers.
Additional available options for the Corsair include a head-up display, wireless charging pad, panoramic roof, and a premium 14-speaker Revel sound system, providing enhanced convenience and luxury. In addition to the advanced hands-free driving feature of ActiveGlide, every Corsair is equipped with Lincoln's Co-Pilot360, a comprehensive suite of safety features. This includes standard adaptive cruise control, forward collision warning with automatic braking, lane-keep assist, blind spot warning, evasive steering assist, intersection collision mitigation on left turns, and automatic braking when in reverse. These features work together to prioritize safety and provide peace of mind for the driver and passengers.
Indeed, it may be surprising to see a compact crossover taking the lead in Lincoln's lineup. However, don't let its smaller size deceive you. The Corsair may be compact, but it doesn't compromise on the luxurious experience that Lincoln is known for. It combines upscale features with advanced driver-assist technologies, creating a compelling package that embodies both Lincoln's legacy of luxury and its forward-thinking approach to innovation.
2023 Lincoln Corsair AWD
Base Price: $45,375
As tested: $57,500 Don't be fooled by its compact size, the Corsair is a prime example of Lincoln's dedication to luxury and cutting-edge driver-assist features. While it may be smaller in stature compared to other models, the Corsair doesn't compromise on the signature Lincoln experience. With its combination of upscale amenities and advanced technologies, it offers a compelling package that showcases Lincoln's commitment to both luxury and innovation.
What's causing all the buzz? Well, Lincoln proudly announces that the Corsair leads the way in its segment by introducing advanced hands-free driver-assist features through its ActiveGlide 1.2 system.
Under the hood, you'll find a turbocharged 2.0-liter four-cylinder engine generating 250 horsepower and 275 pound-feet of torque, paired with an 8-speed automatic transmission. In terms of performance, it may not be a thrill ride, but it delivers a smooth and agile experience in urban settings, with stability on corners and highways, achieving a 0-60 mph time of 6.3 seconds.
As for fuel efficiency, the Corsair is estimated by the EPA to achieve 22 mpg in the city, 29 mpg on the highway, and a combined rating of 25 mpg.